Weiqi, known in English as Go or Encirclement Chess, is one of the four most refined skills that an ancient Chinese intellectual could possess. It has a history of well over 4000 years in China and remains popular to this day in China, Japan and South Korea. Culturally, this may be one activity that really is "more than just a game".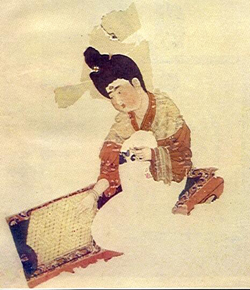 Go is a game of encirclement and capture, which takes place on a board of 361 squares. The object of Go is not to capture the opponent's actual pieces but rather to surround empty territory on the board. This is done by building encircling "walls" around these empty spaces. The game is played by two people, with a black and white set of pieces, just as in chess.
It's pretty certain that Go was invented by Chinese ancestors, yet nobody knows exactly when. The Encyclopedia Britannica records that the game originated from China in 2306 B.C. According to legend, a Chinese ruler of some 2200 years ago, Emperor Yao, invented Go to help enlighten his son Dan Zhu.
Wu Yulin is a Go professional, and coach for young players in the National Go Team. He explains how the game is historically another high-brow art-form.
"In ancient China, Go was mostly favored by intellectuals, especially those from the upper class and the bureaucracy. The ordinary people would seldom take a liking to this game. However, now we have people from all circles playing Go, as a result of government efforts to popularize this ancient art."
Secretary General of the China Go Association, Hua Yigang, explains the reason why this game has predominantly been played by intellectuals.
"Only those with some degree of education can approach this game, because it's so complicated. It has too many variations of play and requires a great deal of calculation. An ancient scientist once calculated that the board positions in a single game can be a number that is 768 digits long."
The original intellectual group of go practitioners gradually lifted this high-brow pastime up into the realms of art, alongside the seven-stringed zither, calligraphy and painting. As such, the equipment of go become an increasingly fastidious feature, with precious wood, jade, clamshell, crystal and quartz used to make the pieces.
Du Mu was a famous poet living in the ninth century. He once wrote a poem about playing a farewell game of Go with his friend, where they used jade stones and a catalpa table. Today the most popular stones are the Yunzi, made from pebble stone from Southwestern Yunnan province.
The influence of the Go game on Chinese society is quite evident in various works of literature, which often include a scene or two featuring the Go board. One of China's classics, "The Romance of the Three Kingdoms," depicts the famous general Guan Yu playing Go while receiving surgery on this arm. Another general Fei Wei was said to deploy his troops using a Go board as his visual layout.
History books have recorded quite a number of ardent Go fans from each dynasty, including emperors, officials, poets, educated women and even monks. Today, there are still many Go fans in China, Japan and South Korea, indicating that this game can exert a powerful hold over many people. Long time professional Wu Yulin explains the attraction of Go.
"In Go, you can find the application of dialectics and military stratagems. It can also cultivate your character and improve your intelligence. There are numerous variations within the game of Go and you can never reach the bottom of it."
Hua Yigang, Secretary General of the China Go Association, and a professional player, loves what he considers to be a peaceful game, which reflects ideas of absolute equality.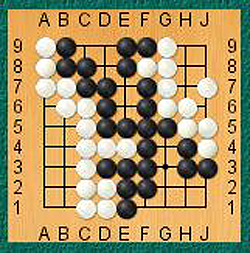 "Go embodies a spirit of equality, in that every stone is equal. They don't carry a preset role as in other games, such as chess. Women can play it just the same as men. If everyone loved to play Go, ours would be a much more peaceful world."
Many people also love this ancient game for the essence of Chinese philosophy that it contains. For example, Confucianism stresses the rule of Golden Mean, that people should not go to extremes, and not reveal the edges of their personality. Similarly in Go, you must hide your intensions and not fully reveal them until necessary. There's also the traditional Daoist doctrine that if you want to take something from others, you first need to give up something of your own. This is equally applicable to the strategies of Go.
In fact, Scholars have labeled Go as a game of military stratagem. This stress on the scientific and practical aspects of the game has undoubtedly helped raise its social status. Here"s Hua Yigang again to explain more.
"There is some similarity between military stratagem and the game of Go. You can understand Go as featuring two sides with equal military strength fighting over a fixed territory. The Go stones represent your manpower and the board is your territory, whereas the players are the field commanders. Success lies in how much territory you occupy. It's a war between equal powers."
But more often, ancient Chinese played Go to cultivate their mind and character. Hua Yigang elaborates on the character-building qualities of Go.
"You have to become entirely calm, otherwise, you can't play it. In the game of Go you have to be very strong of mind. There's always loss and gain. You might make mistakes during a game, and then have to readjust your mentality in order to fight to the end. For the youth, it can be a failed attempt at learning something new, but for the aged, a hobby like this will greatly reduce the danger of senile dementia."
In fact, all of our minds can benefit from playing Go, which officially has the capacity to make you smarter. Research has shown that that children who play Go have the potential for greater intelligence, since it motivates both the right and left sides of the brain.
Today, China boasts a number of topnotch players, such as Ma Xiaochun and Chang Hao, who have achieved remarkable results in international contests. Meanwhile, the number of Go fans in China is at 36 million and rising, with support provided by a wealth of media coverage. Some universities like Beijing University are evening offering courses in Go to undergraduates.
As Wu Yulin coaches his team of young players to progress further and further in the realm of Go, more children are taking private Go lessons. It only remains to be seen which of them will become the shining stars of tomorrow.